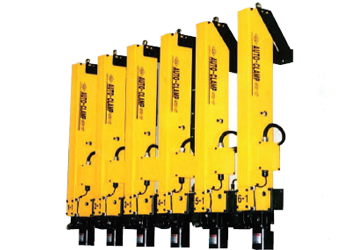 AFSY
It is Slide-transfer type AUTO-CLAMP
It can be clamped by hydraulic pressure and
unclamped by dedicated spring for die.
It is designed as Double Packing Technology.
It is necessary for die to have "U"slot

CHEON GI's AFSY AUTO-CLAMP is one of the components for Q.D.C. SYSTEM.
AFSY is Slide-transfer type AUTO-CLAMP in which the Single-Acting spring restoring type clamp (GY type HI-Clamp) and the air Cylinder are combined.
Due to the Built-in compact hydraulic hoes and cables, there is no interference with the feed bar on transfer line or others.